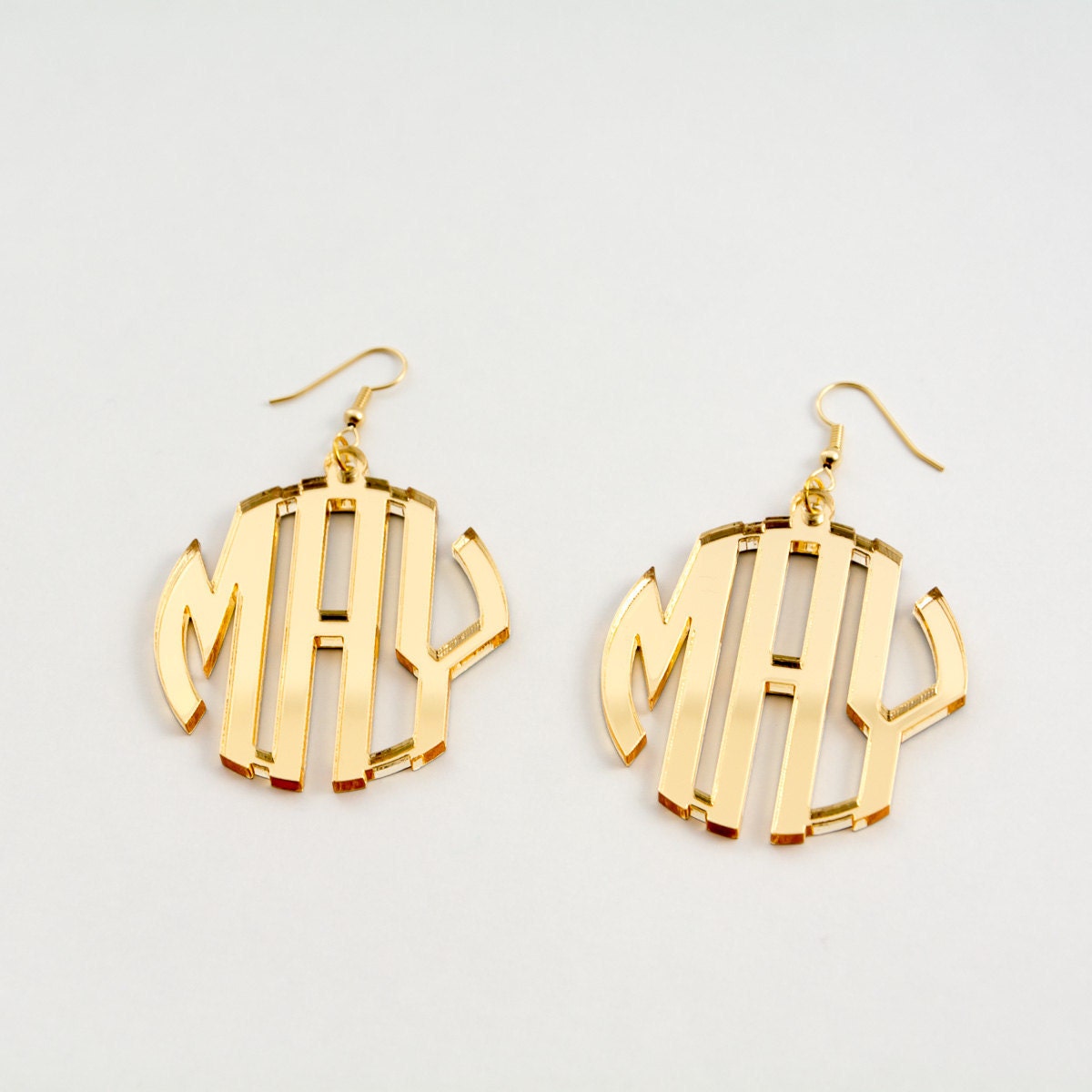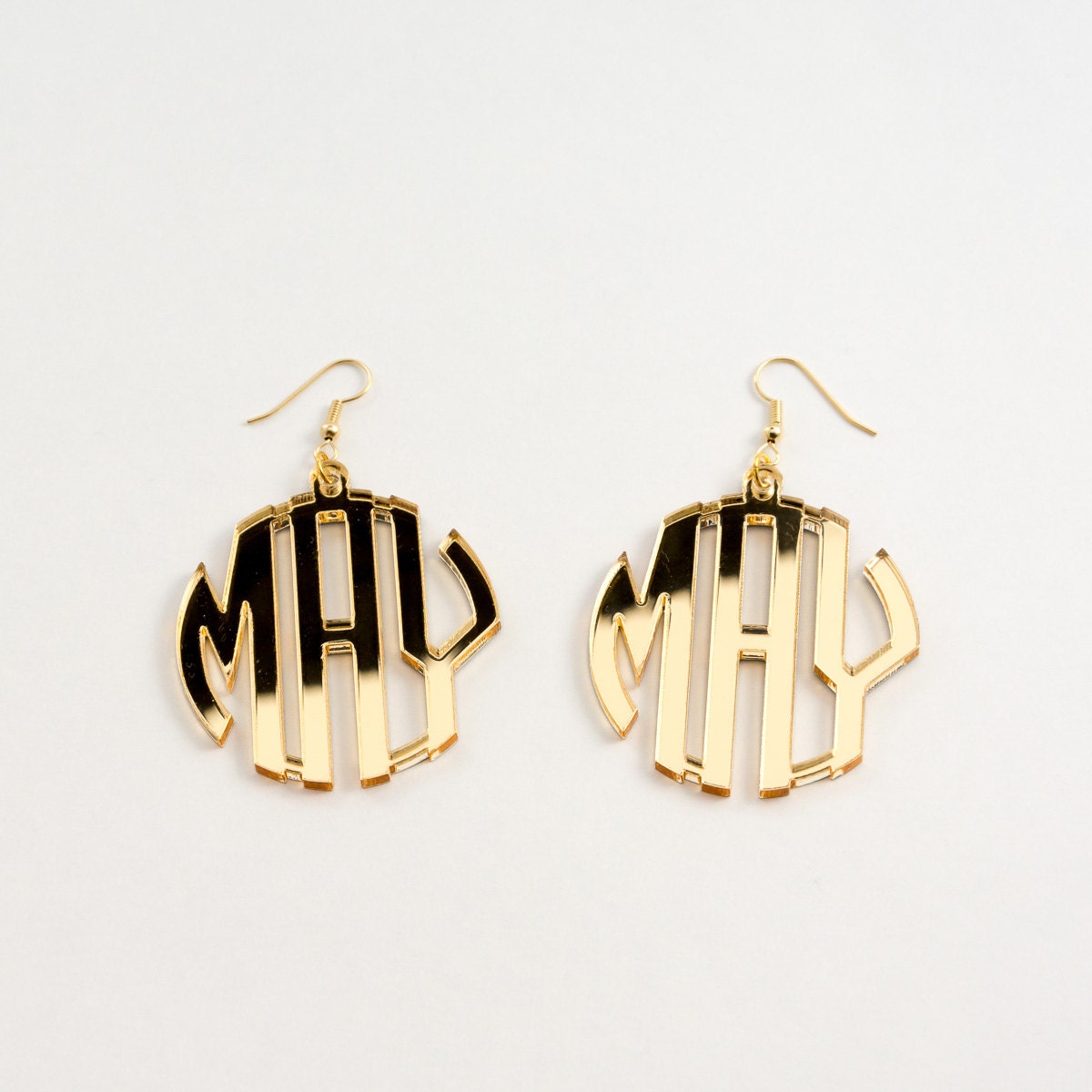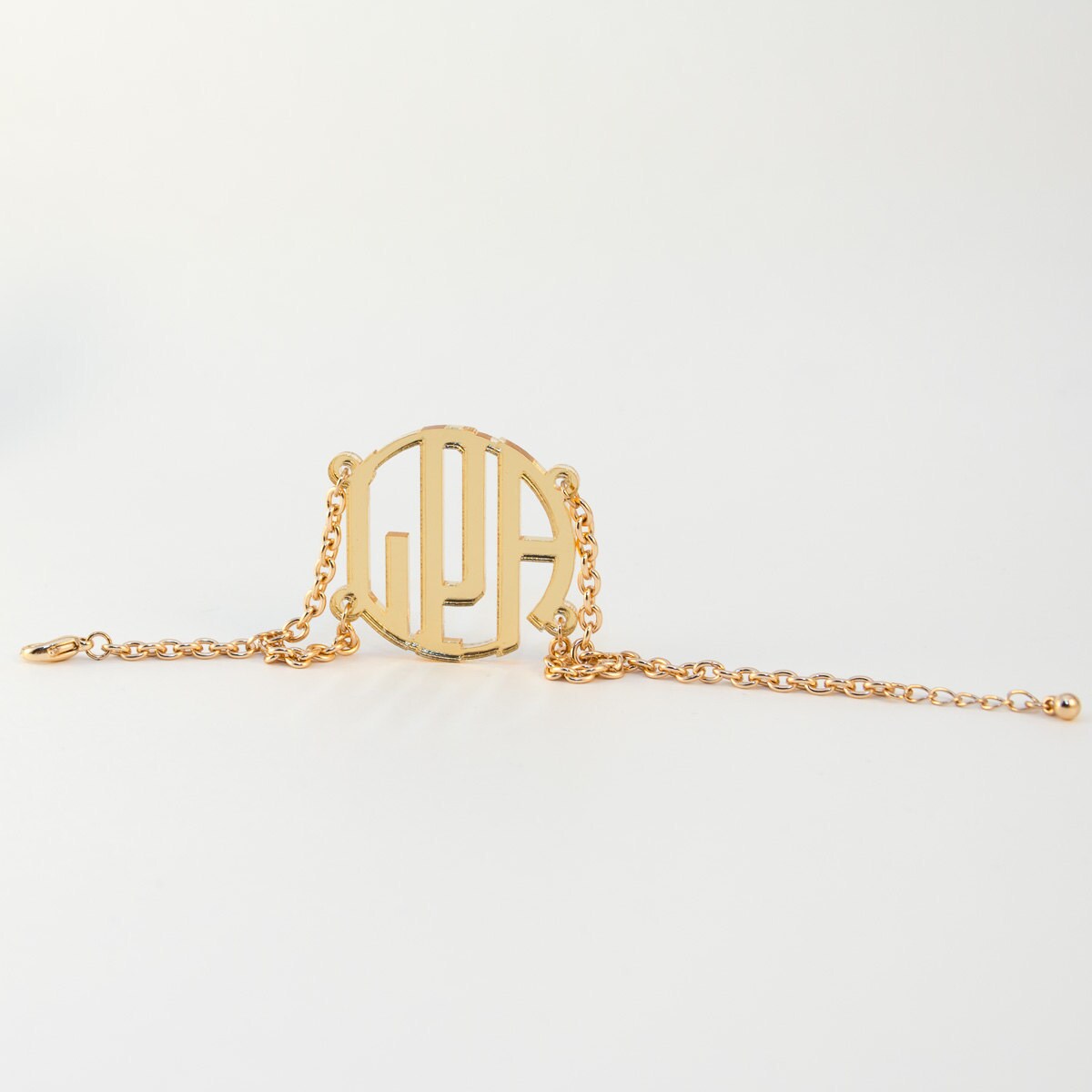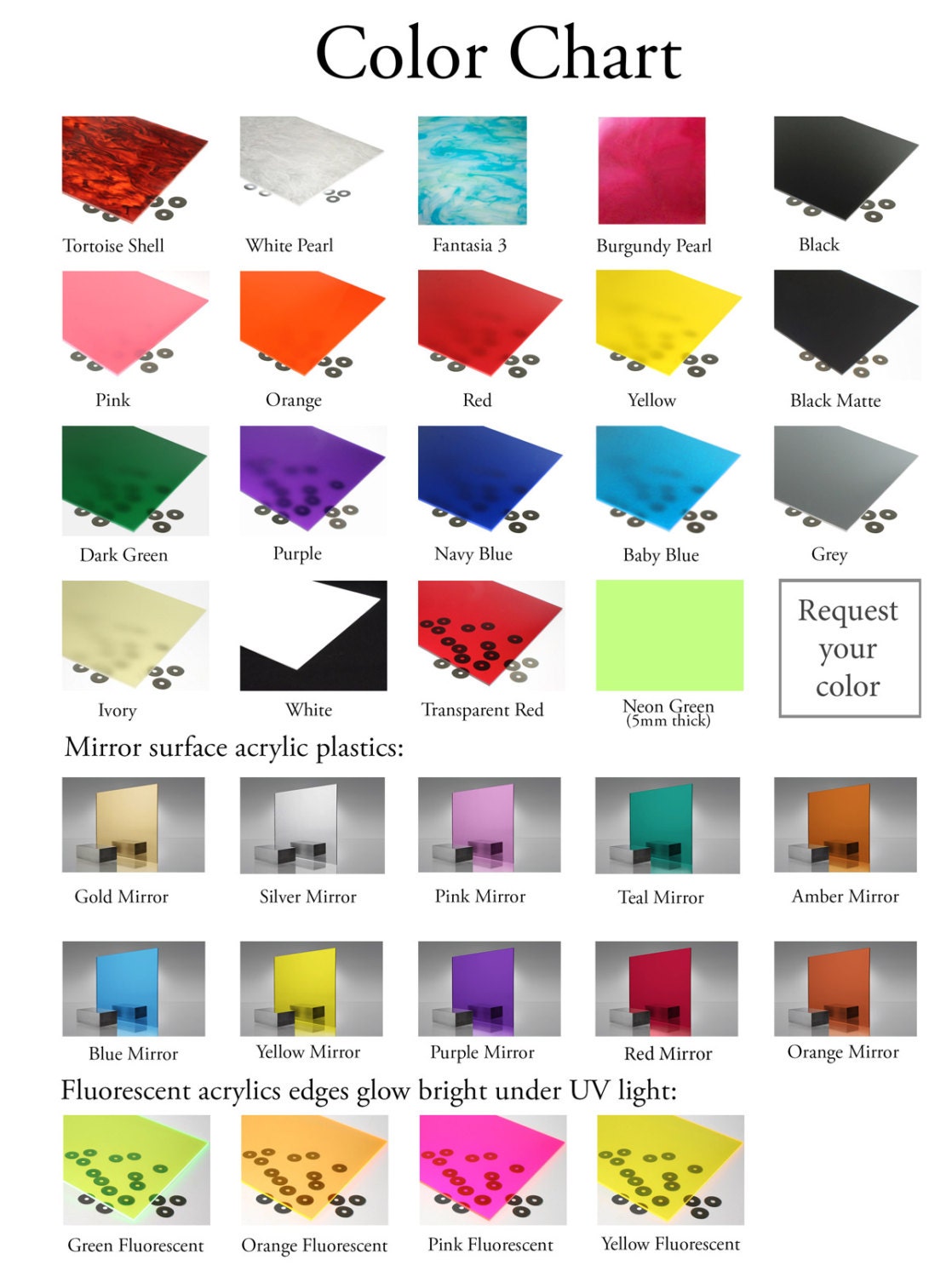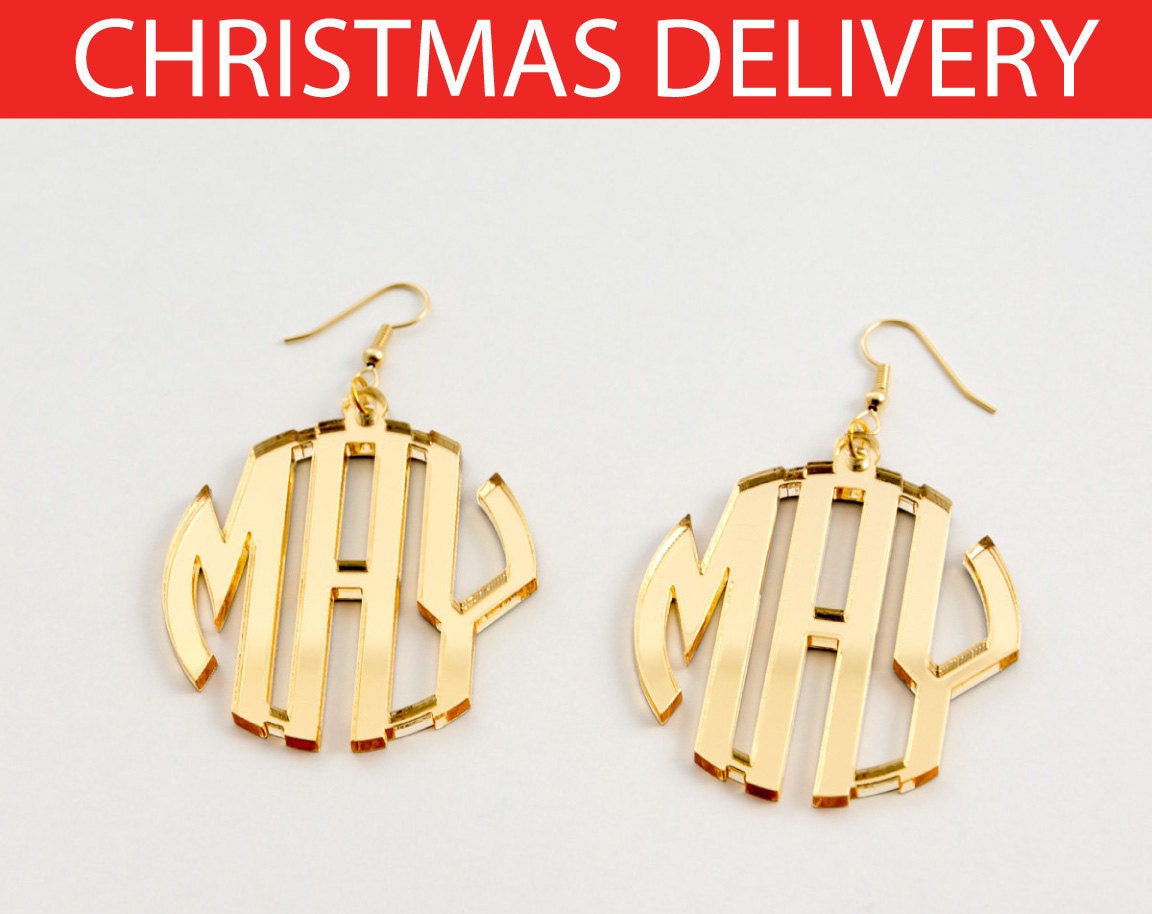 Monogram Earrings 2"

visit our store https://www.etsy.com/shop/CardinalGift?ref=si_shop

Ø Makes an impressive and unique wedding or birthday gift.
Ø Each Necklace bears three initials in your color choice.

Available in different colors.
Free gift boxes with every item
and most importantly: made in the USA

==== How To Order Your Personal Item ===
1. Please write your initials in the exact order they should appear on the monogram as a note during checkout. Write down the full name as well so there is no mistakes will be done. Usually, initials on the monogram should go in the following order First Name / Last Name / Middle Name
Example: If your name is Alexandra Jade Phillips, letters on the monogram should appear in this order aPj (The last name always should go in the middle)
2. Please write a color for your monogram from the color chart
3. Findings metal: sterling silver, 14k gold-filled, silver plated, gold plated


=== Here is a small example of how your purchase note should look like: ===
1. aPj (Alexandra Jade Phillips. Last name is Phillips)
2. tortoiseshell
3. 14k gold plated


Item details:
Earrings circles size: 2" diameter
Monogram material: acrylic
Acrylic thickness: 3 to 4 mm

visit our store https://www.etsy.com/shop/CardinalGift?ref=si_shop

Monograms are motifs that first appeared on Greek coins. They're beloved by artists and designers, who often use them to "brand" their artwork or designs. Who can blame them? Monograms are chic, beautiful, and so very personal!

Nothing could be more perfect if you are seeking a custom piece of jewelry to express your individuality. This is not one of those gold nameplate necklaces you always see at the local mall!

I will handcraft your initials into a gorgeous design to transform each initial of your name into an impressive work of art. When I am finished sculpting your initials, they will dangle elegantly from an 18" silver plated chain and earring hooks.

To further personalize your necklace— color it bold and bright, classic tortoise, or in a shade plucked straight from the sea.

Present as a meaningful birthday gift or as a joint 3-letter monogram gift for a new bride. Give it. Receive it. Buy it for yourself and wear it proudly. It is and always will be your unique personal motif!
Payments
Two types of payment are accepted: Paypal and Direct Checkout with Credit Cards. Please note, that you are able to pay with Credit Card over a PayPal even if you don't have an account with them.

Paypal e-Check orders will only be shipped once cleared. It can take up to 2 weeks to clear this kind of payments. If you don't wish to wait for that long please use confirmed credit card/bank account for purchases.
Shipping from United States
Most of the US orders for jewelry/decals and other lightweight items are shipped via USPS First Class Mail.
Most of the heavy weight items like hammers, cutting boards, axes and others will be shipped via USPS Priority Mail. Some of them will be shipped using UPS/FedEx Ground services. Shipping time on this services is 2-3 days estimated by USPS and Ground varies by destination.

Rush orders are shipped via USPS Priority Express Mail. It takes 2 business days for this type of mail to be delivered. In some cases I may use UPS/FedEx if faster shipping available at same price level.

Very urgent deliveries (order today - get tomorrow, Saturday delivery, etc.) are possible using FedEx/UPS - convo me with your address for price estimate.

Shipping using your FedEx or UPS account is possible. Go ahead and place the order. Shipping charges will be refunded (less the handling cost)


Most of the shipping are done same/next day. Shipping upgrades are available upon checkout. Please contact for more information.

International orders are shipped via USPS First Class International Mail. Please allow 1-3 weeks for delivery to most areas. Some international post offices may delay the delivery and I'm out of control for those delays. If you need something rush, please contact me for Priority / Express mail quotes.
Shipping price includes only the postage cost. It is customers responsibility to take care of all import duties and taxes.


Customers obligatory to provide correct address upon checkout. If you need to change your address please send me a convo ASAP.

Items which were sent to a wrong address provided by you may or may not be delivered back to me. This items can be shipped to you for additional charge once they will be in my premises. Please note it can take up to 4 weeks for "wrong address" mail to come back.
Refunds
If your item was damaged during shipping or so i will be glad to assist you with replacement or repair. Please convo me if you have any questions.
My goal is to get 100% satisfaction with my services and products.

If you are not satisfied with your product you can have it returned within 15 once one is received. Some items which are made to order may have a restocking fee to cover material cost.
Additional
How to take care of Jewelry:

STORAGE
Store your Jewellery separately in jewel boxes or pouches when not being worn.
Store gold chains flat or hang to prevent knotting and tangling.
Avoid storing your all your Jewellery together with other fine Jewellery, as the gems may scratch or damage the product.
Heavy objects may cause deformation of your Jewellery, so be careful where you place your jewellery.

MAKING UP
Apply all cosmetics, hair spray and perfumes before wearing your Jewellery. Never spray
Perfume directly on your Jewellery.

AFTER WEARING
Avoid exposing your Jewellery to extreme heat. After a sweaty outing in hot weather, it is advisable to soak the Jewellery in warm ordinary water, so the body salt and dirt can ease off.

OUTDOOR USE
Avoid using your Jewellery at the Beach, because of the contact with salted water blended with sand.
Avoid wearing Jewellery when doing rough work. Jewellery may scratch, pearls and stones may chip and the mounting can be displaced or damaged.
Avoid wearing your Jewellery in the pool; the treated water my damage it and it may chip when in contact with the walls of the pool.
Avoid contact with sand and chemical as they can affect the gold plating of the Jewellery.

CLEANING YOUR JEWELLERY
Soak in warm water for about 10minutes with a mild detergent.
Use a soft brush to wash the Jewellery after soaking.
Rinse in plenty of water after brushing and ensure the detergent does not remain on the Jewellery.
Leave the Jewellery to dry and then use a gold care cloth to polish to its original brilliance.
Do not over polish or scrape pearls and stones as it may damage their brilliance.
Stones can break. Ensure they don't fall on tiles or surfaces than can break them.